The Rise and Fall of the Powhatan Empire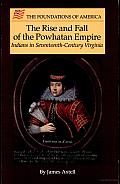 I happened upon The Rise and Fall of the Powhatan Empire by James Axtell when I was in Williamsburg and it was an incredible find! It is a short history of Jamestown taken from original sources and is a quick, easy and very informative read. If you want to know what the original Jamestown founders were REALLY like, what problems they grappled with and what threatened their success, this little book is for you!
Themes: work; government; worldviews; American Indians; law; obedience
Read: Starving Time in Virginia (4 pgs.); Virginia Articles, Laws and Orders (8 pgs.)
Read With: Starving Time in Virginia; A History of the American People; The Witch of Blackbird Pond; Writings of Christopher Columbus; The Journal of Major George Washington
Discussion Questions:
1- How did the worldviews (consider religious beliefs, cultures, etc.) play into the difficulties between the English and the Indians? Did either group live true to the values they claimed?
2- Why was John Smith so frustrated? What should he have done differently? Why wouldn't the settlers listen to him?
3- What was Powhatan like? Was he helpful or harmful to the early settlers? Why?
__________________________________________________
Democracy in America, vol. 1
Democracy in America, a 19th century analysis of American government and culture by Alexis de Tocqueville has become an important classic for understanding not just America but the powerful force of democracy for all people across the world. Although it can be a difficult read, we have recommended key chapters and selections for you to "get a taste" of Tocqueville and enjoy him at his best!
Themes: North and South; 3 Races; law; government; morality; religion; education

Read: Chapters 2, 17, 18
Read with: The Virginian; Life of Frederick Douglass; Liberty of Conscience; Uncle Tom's Cabin; Lincoln's Second Inaugural Address
Discussion Questions:
1- What is democracy? Why is learning about democracy beneficial? How could you become more democratic in your personal life?
2- What were the differences between the North and South? Why did these matter?
3- What are the fundamental principles America was built upon? Are these still principles? How can we honor them as a society and personally?
4- What are some of the characteristics that make Americans unique? How has America changed? Which changes are for the better?
_____________________________________________
The Story of the Pilgrims
A sweet and engaging picture book, The Story of the Pilgrims by Katherine Ross gives young children a first look at America's early beginnings. Though just a bit romanticized, Ross is honest about the Pilgrim's desire for religious freedom (so often glossed over today) and gives tribute to those Native American Indians who befriended and aided the early settlers. We read this book every year and act it out on Thanksgiving day. The kids love it!
_______________________________________________
Writings of Christopher Columbus
Want to know the REAL Christopher Columbus?! Read his writings! Deeply religious, ambitious, fearless, brilliant and determined, Columbus is not the man we often think he was. As an individual that changed the world more than almost any person who has ever lived, we owe it to ourselves, our children, our students and future generations to discover what Columbus really believed and who he really was.
Themes: adventure; faith; courage; discovery; leadership; wealth; navigation
Read: Catholic Historical Society publication of Columbus' letters and journal; Columbus' Journal of the First Voyage; Book of Prophesies; PBS article on Columbus
Read with: Carry On, Mr. Bowditch; Tolstoy's Diary; Writings of Marco Polo; The Agony and the Ecstasy